State of emergency in Michigan county as tested water is 20 times the safe level for PFAS chemicals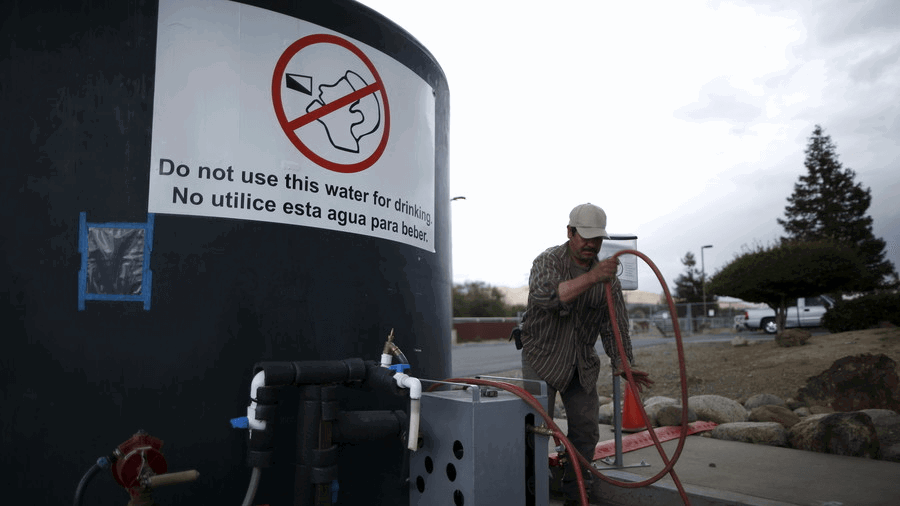 © Lucy Nicholson / Reuters
A state of emergency has been declared in Kalamazoo County, Michigan, after high levels of man-made PFAS chemicals were found in the drinking water in two towns. The contaminants pose severe health risks and can lead to cancer.
Lieutenant Governor Brian Calley announced the state of emergency on Sunday although high concentrations of per- and polyfluoroalkyl (PFAS) particles in Parchment and Cooper Township were announced on Thursday, with local authorities giving out bottled water on Saturday.
Tests from Parchment's water supply system showed a level of 1,410 parts per trillion (ppt) of PFAS, 20 times more than the EPA lifetime health advisory stands of 70 ppt.
Parchment, which sits on the Kalamazoo River just north of the city of Kalamazoo, has about 1,800 people. Once known for its paper manufacturing, the town's water system is fed by three groundwater wells in Cooper Township, which encompasses a wider area, home to about 3,100 residents.
To solve PFAS contamination, the utility company began to flush the water lines in Parchment. The authorities also introduced controls to prevent Parchment's water from reaching the wider Kalamazoo water supply system. Residents of affected areas are being advised not to drink the water until further notice.
Exposure to PFAS poses severe health risks and can result in low infant birth weights, impact the immune system and even cause cancer or thyroid hormone disruption, the Environmental Protection Agency (EPA) warned.

Frightened by the discovery that even boiling the water or using common residential filters won't remove PFAS, locals have been asking the government about the extent of the contamination.
Recalling the Flint, Michigan, water crisis of 2014 where lead-contaminated drinking water endangered the lives of over 100,000 residents, Democratic governor hopeful Abdul El-Sayed wondered how the "state surrounded by 21% of the world's freshwater" cannot provide safe drinking water to its residents.
While the state of emergency was declared in Kalamazoo County, chemicals have been found in more than 20 different communities across Michigan, in groundwater, surface water, as well as in the Great Lakes, local media reports.
In November, the Michigan legislature approved $23 million in emergency spending to address PFAS contamination across the state and to help the city of Flint recover from its crisis with lead-tainted water. The funds helped unearth more contamination.
This week, Michigan Live revealed that Clinton River and Lake St. Clair have been contaminated with PFAS from chemicals pouring out of six water drains from Selfridge Air National Guard Base, tests conducted in February showed.
---
So I hoped you like the article - the original link is: https://www.rt.com/usa/434600-parchment-water-con...

Jul 30th 2018 RT