Over 60,000 homeopathic remedies - always there. The Copen RemedyMaster supports you as a therapist not only effective in the right homeopathic remedies to find. Rather produces it in a second step, in no time the information of the desired agent - and in any any potency .
The Copen RemedyMaster been developed for a quick and foolproof embossing homeopathic remedies - he is the perfect travel kit for doctors and veterinarians . By the handy size , the device can just as easily put into practice as during home visits. Consider the RM as your personal "electronic medicine honeycomb", which is suitable for all test procedures such as RAC, kinesiology, EAV, biofield test, etc. You have over 65,000 digitized test sets available, which you can adjust in any desired power. You can expand the database by using your own test sets. To have an ever-growing, immediately retrievable Pharmacy: through the possible combinations of resources and powers are you millions of test kits available.
Over 60,000 homeopathic remedies you can print to anything. Called the perfect travel kit for doctors and veterinarians.
Download from the App Store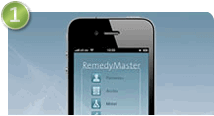 Includes a 2" Tesla Cup that plugs in to your iPhone audio port.